Don't you sometimes think that we often visit a landmark or tourist attraction, just because everyone else has?
It's the thing to do, right?
Then do you find it frustrating when you get back and your all fizzed up about your recent trip, only to have a friend brush off your enthusiasm with a tired response like oh yeah, we did that ages ago.
It can be quite deflating.
So what's the solution? Well, the obvious one would be to find new friends that don't travel much OR. You could try Vayable.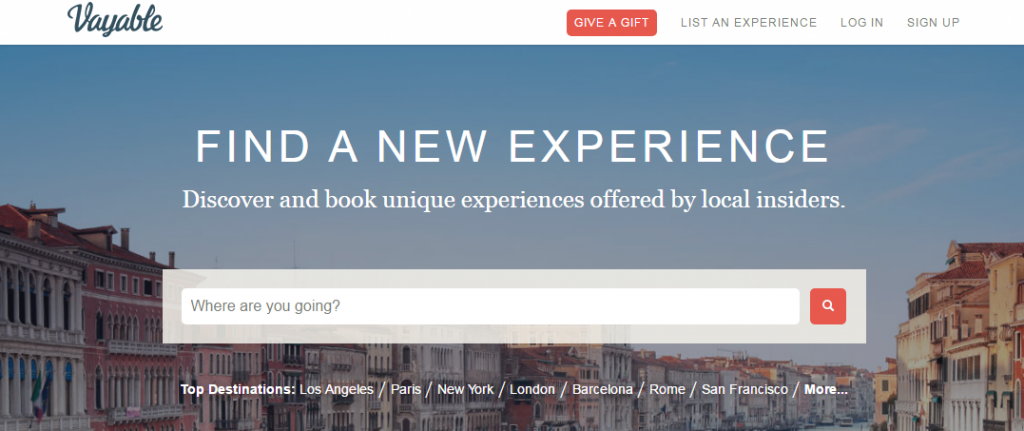 Less Stuff = More Happy
According to their website, Happiness research shows that we get longer-lasting meaning and fulfillment from experiences than we do from stuff.
In other words, "It's better to go on a vacation than buy a new couch' is basically the idea," psychology professor, Elizabeth W. Dunn, told the New York Times.
It was this ethos that motivated the creators of Vayable. A new community marketplace where you can discover (and book) tours, activities and unique experiences anywhere in the world.
But these aren't your ordinary tours like you see in the brochures, no these are tours with itineraries created and hosted by locals, just like you!
Everybody knows that local knowledge is like gold dust when traveling and Vayable helps bridge that gap between tourist and resident.
you've got to wonder how many execs from the major online booking engines are standing around wondering why didn't we think of that?
How It Works
The process is very simple, the one line search engine on the front page (pic above) asks where you're going, then presents you with all the tours on offer for that area.
Tour guides or Vayable Insiders as they're known on the site, are independent people who create local experiences to share with tourists. Each Insider is carefully screened by Vayable for safety reasons and the proposed tour itineraries are also checked over for quality.
As the site relies on word-of-mouth and repeat business to survive, it's in their best interest to ensure a positive experience for users.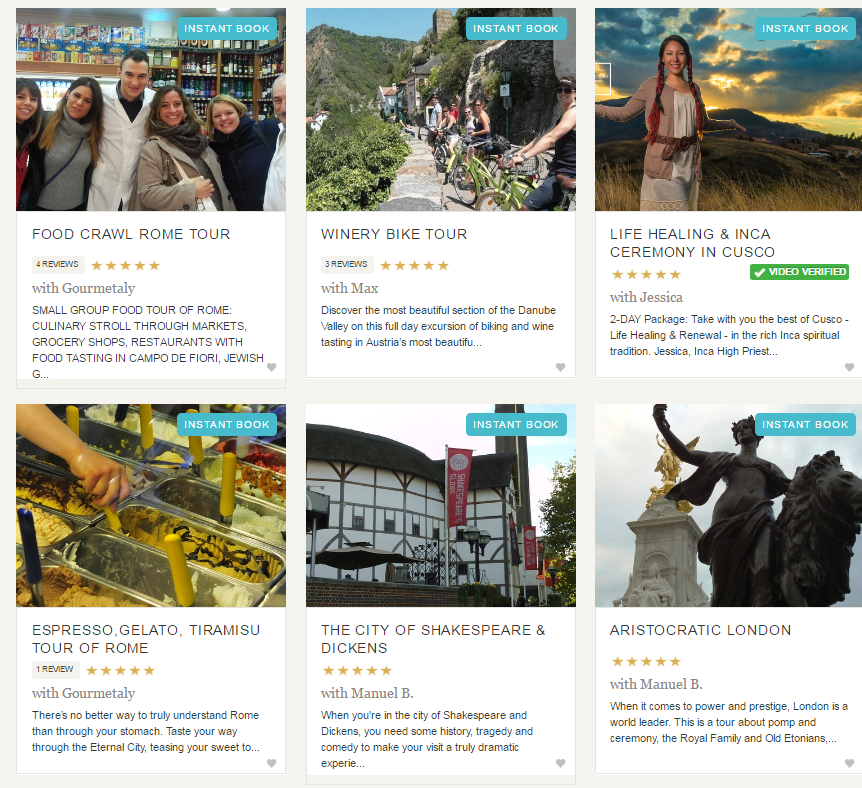 Once you have selected a tour, you are introduced to your Insider, can see photos of the places you're likely to visit and you can book right there on the spot using your credit card in a calendar booking system.
It's so easy to use, you've got to wonder how many execs from the major online booking engines are standing around wondering why didn't we think of that?
Here are a couple of interesting experiences that I'll be booking next time I'm in the area:
Disrupting The System
Vayable is another great example of the new sharing economy that is currently disrupting traditional business models all over the world. Regular visitors to the United States would have noticed a lot more of these sharing or peer to peer type businesses popping up already. Ride-sharing is cheaper than a taxi with Uber and Lyft and you can find a cheap bed for the night on AirBnB.
Is Vayable For Me Though?
Before you go canceling your three week bus tour around Europe, you must understand that this is a fairly unique offering that caters to a very niche crowd.
The most popular tours on the site involve sampling the local cuisine, exploring the urban centers at night and usually end up in a bar somewhere.
From what I can see, the majority of tours are mainly on foot too. So if you're not a fan of walking round the streets of a foreign city for a few hours, then you're best to stick with your more comfortable mainstream options.
But if its adventure you crave or you just want a better travel story to take home, I'd suggest giving Vayable a try.
My wife and I caught the cruising bug in 2012 and I think this would be a great option for cruise ship passengers. Instead of following your fellow passengers around in every port on the tours recommended by the cruise line, I'd try a couple of these tours to mix it up. At the very least you'll have a better story to tell over dinner.
While I haven't tried Vayable out for myself just yet, I'm always on the hunt for a better travel story so it's definitely on the list for my next trip!
Author Bio:
This article has been written by Rosina De Palma who is a professional blogger and owner of travel blog. She is also an expert of Social media. Her blog also well-known as food blog, fashion blog and home decor blog. She is a huge fan of kylie Jenner and believe Kylie as her Fashion Role Model.