Our bathroom is the place where we can relax completely on our own. It's one of the rare rooms in our home where we can get complete privacy. And probably the best bathroom feature is your bathtub or a shower. There's nothing like the feeling of warm water on our bodies, relaxing us and calming us. Sometimes, a quick shower can boost out energy and prepare us for the new day. Whatever the reason is, most of us enjoying having a shower or a long, soothing bath.
If you think there isn't a lot to be done to make your showering experience more pleasant, then you're wrong. There are numerous accessories you can get which can make it more fun, practical or relaxing. You would be surprised with just how many accessories you could get – take a look at this cool list and find something for you and your family.
1. Relaxation wooden bathtub caddy
Many people, especially women, enjoy a quiet evening spent in a bathtub filled with warm water and bubbles. You can improve this experience if you get this bathtub caddy. Made of wood and perfectly blending in the natural feeling of the experience, this caddy is not only cute but also very convenient. You can have your mobile phone and your glass of wine within your reach – there is a wine glass holder on the caddy, a slot for your mobile phone and even recessed holes for you to place tea lights. Of course, you can choose to leave your book or any other item there, depending on your mood.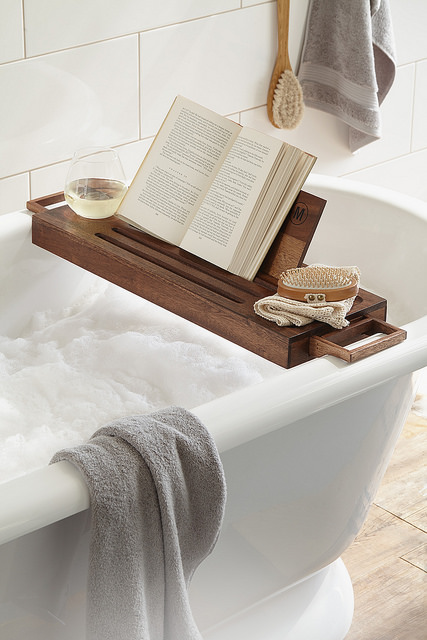 2. Silicone bathroom organizer
Some people like brushing their teeth or even shave in the shower. If you are one of those people, then you can do it pretty easy with this organizer. It's made of silicone and can be placed wherever you need it. Everything you need is kept in one place – your toothbrush and your toothpaste, as well as your shaving equipment. Of course, you need to have a bathroom mirror placed in such a way you can actually see yourself while brushing your teeth in the shower.
3. Get a bathtub for her and him
Enjoying a warm bath together is wonderful but you can add a twist to it if you install this yin-yang look-alike tub. This interesting tub has one half decorated with blue underwater lights, while the other half is decorated with pink lights. Of course, the tub features two faucets, meaning each one of you can choose your own water temperature and not argue about it. And each one of you can choose their own bubble bath. In other words, both of you can have your own relaxing bathtub experience but you can enjoy it together.
4. Bluetooth shower speaker
Even though shower speakers have been here for decades, there have always been problems with the connection or you've simply had to listen to whatever radio station the speaker can pick up. Today, you can simply link your smartphone or any other Bluetooth-enabled device to the shower speaker and enjoy your favourite songs without any interruptions. The speaker is waterproof and you can attach it to your showerhead.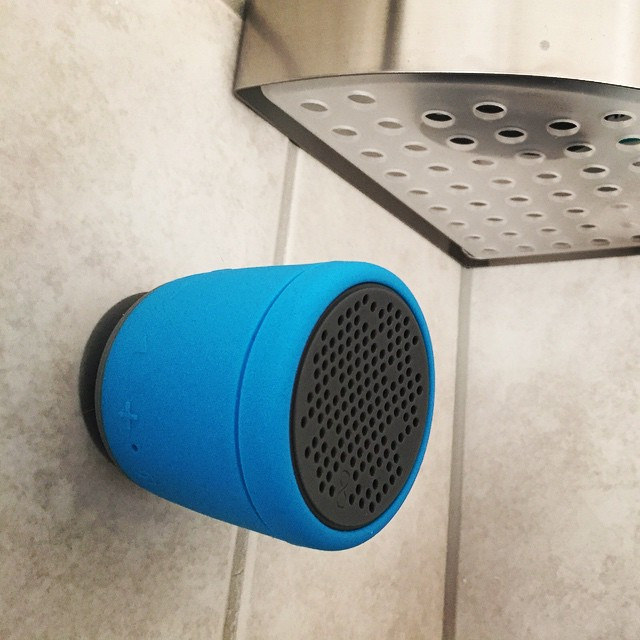 5. An original non-slip bath mat
While having a shower, there's always the risk of slipping and hurting yourself in the shower due to the shower gel you use. You don't have to be worried about that if you get a non-slip bath mat that will protect you from any injuries and slips. If you want a cool mat, there are tons of ideas you can get from stores like Mat Shop and make your bath mat fit into the whole bathroom design, whether it comes in a playful or elegant design.
6. The hands-free shower back scrubber
You can have a great back scrub while you're in the shower with this great accessory. It can be easily attached to the wall, allowing you to scratch your back and clean it thoroughly, which is the hardest part to reach when you're having a shower. Just make sure you install the scrubber at the optimal height so your back can reach it. You can attach a luffa layer on it, spray your shower gel onto the scrubber and enjoy.
7. Aromatherapy shower kit
Even though you can really enjoy in a long bath with bubbles, your showering time can also be incredibly enjoyable. Getting a water massage under the shower is highly relaxing and completely different from simply lying in your bathtub. The soothing aroma of various essential oils can help you either wake up and get energized or relax and decompress after a stressful day. An aromatherapy shower kit usually has 3 bottles of essential oils and can be attached to almost any type of shower head through the adjustable arm. You need to place the arm in such a way that the pod with the oils can get into the stream while you're having a shower. Once you turn on the shower, the oil gets in the stream, giving out a beautiful smell. After a tiring day, you don't need anything else than standing under a stream of warm water, enjoying the relaxing smell surrounding you.
8. LED shower lights
If you have kids, they will truly enjoy these shower lights that come in 7 different colors. No more complaining about having to take a shower – you will have troubles getting your kids out of there! The lights are easy to install and they fit all the usual connectors. They automatically turn on when you turn on the shower and also turn off automatically. The colors interchange while the water is running. It's a cute accessory that makes the experience more enjoyable.
All in all
As you can see, there are many ways you can enjoy your shower or bathtub experience more. You just need to do some research to see what's out there on the market. The bathroom is the place to relax and decompress so don't hesitate to find a couple of accessories that will enhance your experience.